The water has gone down, the sun is shining again, and things are slowly getting cleaner here in Queensland. But the photographs, the video footage, and the memories for those who witnessed it first-hand will ensure that the devestation from the past few weeks lives on for much longer. The floods too, have not completely gone, simply moved state to wreak more havoc in New South Wales.
As people rebuild their lives in the wake of all that has happened they need money - money for furniture, clothing, kids school books, even essentials like food and a new roof...or door...or whole house.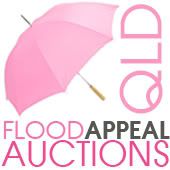 Having seen some of the other auctions mine seem pretty sad and sorry, but even if they only bring in a few bucks, it's a few bucks more that someone can use to buy something so sorely needed. So here's the items:
Item A:
This is a skirt upcyled from a vintage dress. The skirt is a medium, measuring 47.5cm (lying flat) at the band and 52cm long. The material is an off-white with blue-black faded lines and buggies all over it - sorry, the wording under the buggies is unclear.
Being vintage material there is a couple slight tea-coloured stains on the back of this skirt, however they are very light - I didn't notice them myself until I measured the finished product. I think, given a good soak, these would come out - and the material was too sweet not to use!
The skirt has been soaked and is now stain-free!
Item B:
This sweet little bow-shaped bag came about almost by accident, but turned out so perfectly cute you can't help but love it. Made from 70% Acrylic/30% Milk, the yarn is beaultiful and soft but still very sturdy. the inner lining is a vintage yellow floral fabric, and (I believe) is 100% cotton. The colour-matched zipper has been machine-sewn to the lining and then hand-sewn to the outer to give added firmness.I'd envisioned this as a clutch but discovered it fits knitting needles perfectly as well, making it a stylish knitting caddy, or even a fun pencil case.
Length: approx. 29cm (11.4 inches) x 11cm (4.3 inches)
How the Auction Works:
1.
Bidding on
each
items will start at $10.
2.
You can place a bid by leaving a comment on this blog stating you are bidding for either
ITEM A
or
ITEM B
, your bid amount and email address ( if you're not keen on having your email available to the world, post your bid amount and then drop me a line via my
etsy store
with your email address and the name you posted under.)
3.
Please make sure your bid is higher than the previous bid amount and is in whole dollar increments.
4. P
ostage is free for all Australian residents. Bidding is also open to all international addresses but will incur postage fees (sorry).
5.
The auction begins
NOW
and ends
midnight
on
Monday 24th January 2011
.
6.
At close of auction, I will contact the winners and. At this point the winner of each auction will deopis the winning amount directly into the
Premiers Relief Appeal
and send me proof of payment (in the form of a recepit number) via return email, along with a postal address. Once I've received that, I will post your goods to you.
7.
Ckeck out all the other auctions
here
. HAPPY BIDDING!